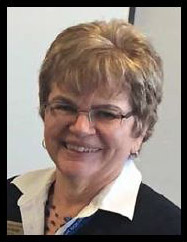 The Board of Directors of the Air Cadet League of Canada, British Columbia Provincial Committee is pleased to announce the election of our new President, Theresa (Terri) Hinton. Terri brings a wealth of knowledge and experience to the position.
Terri was born in Victoria, BC and has lived throughout BC. Upon graduating high school, she attended the British Columbia Institute of Technology and graduated from the Vancouver General Hospital School of Medical Technology.
Terri worked as a Registered Medical Laboratory Technologist for 38 years at Vancouver General Hospital and Children's & Woman's Hospital of British Columbia. Since her retirement in 2013, she has been teaching at BCIT and Stenberg College. She currently resides in Richmond, BC with her husband, Major George Hinton.
Terri began her volunteering career helping her three children when they joined Scouts Canada. She was awarded her 10-year pin and Medal of Merit for the work she had done. She followed her eldest son to Cadets when he joined 655 Richmond RCACS where she held several volunteer positions including chairperson.
In 2006, Terri became a member of the BC Provincial Committee, and earned her 10-year service medal in 2007. Terri was the BCPC Effective Speaking Coordinator for many years. She was presented with the BCPC Certificate of Merit in 2009, and the BCPC Certificate of Honour in 2014.
At the National level, Terri has volunteered with the Effective Speaking program and assisted the Yukon-Pan Territories with their hosting of the 2014 National Effective Speaking program. In 2016, she chaired the BC Committee hosting the Air Cadet League of Canada National AGM held in Richmond, BC. The Air Cadet League of Canada presented her with the National Certificate of Honour in 2016.
The Governor General of Canada, David Johnston, presented Terri with the Sovereign's Medal for Volunteers in 2017. In her commendation letter it stated, "Volunteers like you are fundamental to the well-being of our country, reflecting the rich diversity of Canada's people and the many talents and interest which enrich our society."
Congratulations Terri Hinton on your new appointment.