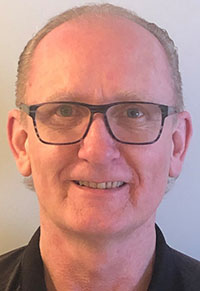 Brian Niles was born in Edmonton Alberta into a Military family. He had the pleasure of living from coast to coast and attending four different schools prior to Grade 5. His family finally settled in Duncan in the 1970's. His involvement with the Air Cadet program began in 2012, when his own son enrolled as a member of the 89 Pacific Squadron in Victoria. Initially serving as a Tag Day parent, Brian eventually served as Communications Coordinator, Vice President and President of the SSC at 89 Pacific. He also served for several years as the coach and mentor of Cadets in the Effective Speaking program at 89 Pacific and has a special interest and passion for that component of the Air Cadet program.
Brian most recently was serving as BCPC's League Representative for 744 Cowichan Squadron. He states that "serving as League Representative at 744, is a homecoming of sorts, it's great to be back in Cowichan".
During his time away from Cadets, Brian volunteers with the Sidney Kiwanis Club where he assists with raising funds to support children's and youth programs and facilities on the Saanich Peninsula. Brian is also a long-time financial supporter of Kiva.org, a charitable organization providing micro-loans to entrepreneurs around the world. His focus through Kiva is on funding female entrepreneurs in impoverished countries. He is the proud father of 2 adult children, one of whom is serving Canada as a Reservist in The Canadian Scottish Regiment (Princess Mary's), B Division in Nanaimo, BC.
On behalf of all of the BC Provincial Committee Board of Directors and League members, we wish you all the best in your future endeavours! We know that any organization you are a part of will only benefit from your knowledge as a dedicated Volunteer.
A fond farewell to a dedicated and valued Volunteer to the Air Cadet Program in British Columbia.