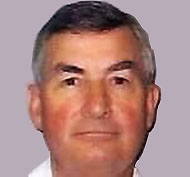 Michael Pouliot enrolled in the Canadian Army in 1960 and served with the Royal Canadian Dragoons Armoured Regiment, with postings to CFB Gagetown, Ottawa and Cyprus. In 1965, he transferred to the Royal Canadian Air Force as an avionics technician. Postings included Ottawa, Germany, Trenton and St. Louis, Missouri.
In 1984, Michael transferred to the Supplementary Reserve and in 1989 began employment at Pacific Region Cadet Headquarters at CFB Esquimalt, with eventual appointment as Administration Officer for the Air Cadet Office. Michael served in this capacity until retirement in 2007, when he became a member of the BC Provincial Committee of the Air Cadet League of Canada.
Michael most recently was serving as BCPC's League Representative for 848 Royal Roads Squadron in Victoria, BC.
Mike currently resides in Victoria BC with his wife, Darlene and cat, Hubble, enjoying the odd round of golf.
On behalf of all of the BC Provincial Committee Board of Directors and League members, we wish you all the best in your future endeavours! We know that any organization you are a part of will only benefit from your knowledge as a dedicated Volunteer.
A fond farewell to a dedicated and valued Volunteer to the Air Cadet Program in British Columbia.