Congratulations to the Recipients of
The Boeing Canada BC Bursary
Air Cadet League of Canada,
BC Provincial Committee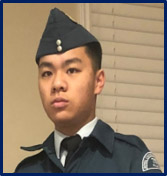 WO1 Joshua Mah
759 Falcon RCACS
My career goals have changed with my interest in the field. At first I wanted to become a fighter pilot and eventual astronaut. Then when I started learning about features of aircraft design through the Cadet program, I wanted to become a mechanical engineer focusing in the Aerospace field. Now, I plan on becoming an Aerospace engineer designing Hydrogen and Electrically powered aircraft and making the field more efficient.
My first step towards my goals of flying were to join the Cadet program; in which I have distinguished myself as having the top ground school marks in my Squadron, leading multiple teams, being awarded multiple Cadet honours, and my highest achievement being named my Squadrons Cadet Commander.
My ultimate goal is to contribute significantly to the field of Aviation. I want to pass on the opportunities the Cadet program gave me by inspiring others to pursue flying scholarships. I also want to increase the sustainability of flying by researching battery chemistries and hydrogen aircraft.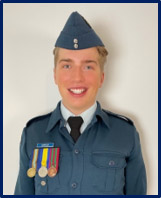 WO2 Kaleb Barnum
279 Elk Valley RCACS
I have been accepted to attend the University of Calgary for the Bachelor of Science in Kinesiology/Biomechanics program and feel honoured to have qualified to be a member of the university's competitive ski team. I am confident that my involvement with the Royal Canadian Air Cadet program is responsible for much of my success.
My long-term goal is to pursue my passion for flight as an Aerospace Physician, ultimately working on a space mission as a research scientist. These highly specialized doctors are trained in the physical and physiological implications of exposure to flight and space travel with the appropriate medical management to ensure safe skies.
The environments of space and aviation provide significant challenges, such as microgravity, radiation exposure, G-forces, emergency ejection injuries, and hypoxic conditions. I will use the academic applications of my medical degree combined with my athletic background to assist pilots and astronauts with these challenges, focusing on athletic performance in space and long-term health.