Mandatory Training
Familiarization flying is a mandatory annual training activity for all Air Cadets. In order to accomplish this training, the primary mandate of Regional Cadet Air Operations (Pacific) is to provide a glider familiarization flight to every air cadet in British Columbia each year.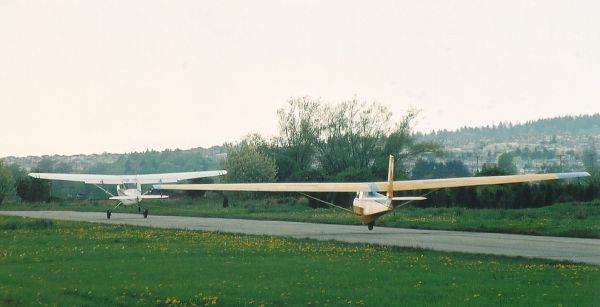 When RCA Ops (Pac) is unable to provide a Squadron with a reasonable gliding opportunity during the training year due to inclement weather or lack of aircraft availability, RCA Ops (Pac) may meet this requirement by providing familiarization flights in powered aircraft at no expense to the Squadron.
Gliding Locations
Glider Familiiarization Flying is conducted by 4 Gliding Wings, each under the operational control of a Gliding Wing Operations Officer (GWOpsO).   The Gliding Wings operate from five primary operating sites and several deployed operating sites located throughout the province where there are suitable aerodrome facilities, and where there are Air Cadet Squadrons to service.  These sites are designated and utilized in an effort to provide Squadrons access to a gliding site that is within three (3) hours driving time of their LHQ, commensurate with the resources available to RCA Ops (Pac).  Glider familiarization flying is currently conducted from the sites listed below:
VANCOUVER ISLAND WING
LOWER MAINLAND / FRASER VALLEY WING
NORTHERN WING
OKANAGAN / KOOTENAY WINGS
Oliver

Salmon Arm
Grand Forks
Trail
Cranbrook
Scheduling of Gliding Days
Annually, RCA Ops (Pac) is responsible for scheduling glider familiarization flying to over 4,300 air cadets around the region. With due consideration for the number of aircraft available, the duration of the spring and fall gliding seasons, the limitations imposed by inclement weather and the geographic dispersal of Squadrons, this is a challenging task. To ensure that valuable aviation resources are used to greatest overall effect for the Air Cadet Program, a carefully coordinated and very strict schedule of gliding operations is planned for each training year.
Gliding Schedules for Pacific Region are developed by RCA Ops on a fiscal year basis. The basic principles of this process are outlined below:
1.     Gliding days are assigned to Squadrons on the basis of their strength, as published in Fortress.  For rough planning purposes, Gliding Wings normally allocate 1/2 day of gliding for each 15 cadets (or portion thereof) on published strength.  As an example, a typical allocation of gliding days for the 2011-12 training year is shown below:
2.     The dates assigned to each gliding site are based on the total number of cadets to be flown at that site, with the start / end dates being dicated by considerations such as local weather, the aircraft maintenance schedule, the operational demands of other gliding sites, and the availability of staff.   On a macro level, the construction of the gliding schedule must provide the following:
a.     mandatory annual proficiency and currency training for Gliding Wing staff;
b.     mandatory glider familiarization flying for the Squadrons;
c.     developmental training for cadets and staff working at the Gliding Site;  and
d.      "spare" capacity to compensate for days lost due to inclement weather.
3.     As much as possible, gliding is scheduled to a squadron's strength.  Allocations of gliding days to each Squadron are based on the previous year's cadet strength, which may be refined if a Squadron experiences a significant change in strength.  Provision must also be made for annual proficiency flights, experience building, and qualification upgrade training for tow and glider pilots.
4.     The scheduling process is conducted during the winter months, and is normally published in February for the fiscal year commencing 01 April. For longer range planning, the schedule is published for an 18 month period, with the final six months subject to review and change each year.
5.     Should a squadron have fixed dates for significant activities each year, the D/RCA Ops O should be notified in order to minimize scheduling conflicts.
Challenges
There are a number of recurring challenges faced each year in giving BC's Air Cadets the best possible aviation experience at our Gliding Sites. Some, such as inclement weather or aircraft unserviceability, are beyond our collective control. However, Squadron staff and Sponsoring Committees can help immensely by doing the following:
1.     Get Organized.  Once your gliding day has been scheduled, take the time to stimulate cadet interest in the scheduled gliding day using the "aids" provided at the bottom of this page.  Like any training activity, a "good" gliding day does not just happen – it takes effort.
2.     Maximize Participation.   Take steps to maximize the participation of your cadets.  If you are scheduled to bring 30 cadets to your gliding day, make every effort to meet that target.  If you think you may fall short, consider bringing interested cadets from a sister Squadron.  There is nothing more frustrating for Gliding Site staff than to see valuable gliding capacity under-utilized because of a low turnout.
4.     Deal with the Weather.   It is an unfortunate reality that scheduled glding activities will sometimes have to be cancelled due to inclement weather.  Unfortunately, well intentioned Squadron staff sometimes take it upon themselves to cancel gliding activities based on an adverse weather forecast, only to wake up the next day to blue skies.   Sometimes, weather may not be suitable for gliding, but familiarization flights in the tow aircraft may be possible.  Gliding Site staff are the subject matter experts on the suitabilty of weather for flying operations, so please communicate with them about the expected weather, and let THEM make the decision.
4.     Please Don't Cancel.   Every year there will be a couple of Squadrons who cancel their participation in gliding with little or no notice. As it is virtually impossible to schedule another Squadron to fly on such short notice, this results in a wasted flying opportunity for some deserving cadets. Remember, familiarization flying is a mandatory cadet activity, and the published gliding schedule constitutes a directive from the Commanding Officer of the Regional Cadet Support Unit. Strictly speaking, cancelling without notice or without good reason constitutes a non-compliance with orders by the Squadron CO.
If you do have a scheduling conflict, it is the responsibility of the Squadron to attempt to switch dates with another squadron. The Zone Training Officers can be an invaluable resource, make sure to engage them!
5.     Please Show Up.    "No-Shows" are perhaps the most frustrating challenge faced by Gliding Site staff. Thankfully it does not happen very often – but it does happen. Please remember, the cadet program has committed significant resources to your planned gliding day – resources which are completely wasted if you chose not to show up. Rest assured, a "no-show" will get the attention of senior officers, and at the Air Cadet League.
How to Get The Most Out of the Gliding Program
As with any activity, the key to success and to ensuring your cadets get the most from their gliding experience is planning and preparation.   Attached below is a PDF file entitled "Getting the Most Out of Gliding" which contains many tips and hints to help the Squadron prepare for a meaningful and interesting training day at the Gliding Site.  This is not only useful information for Squadron staff, but also for cadets and parents!
Also attached below is a PDF file entitled "What to Expect at the Gliding Site".   This is intended to give staff and cadets some information to help prepare you for your experience at the Gliding Site, including some very important safety information.
With a little collective effort to make your scheduled gliding day an interesting and exciting experience, we can look forward to the kind of happy faces you see below 🙂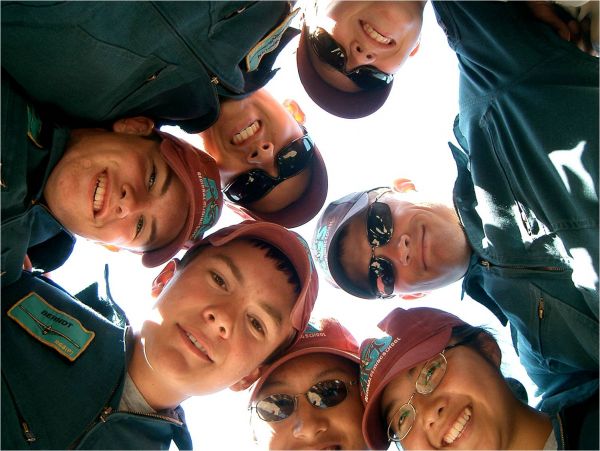 Getting the most out of gliding!
What to Expect at the Gliding Site