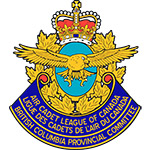 Recognizing the critical importance of the Air Cadet Gliding Programme in Canada, the British Columbia Provincial Committee (BCPC) of the Air Cadet League of Canada has established a $1,000 License Completion Award for ALL "incomplete" British Columbia 2022 Glider Pilot Training Course cadets.
Intended to substantially defray the costs associated with completing a Glider Pilot License, this award will be available until 31 August 2023.
Terms and eligibility are as follows:
Available to BC cadets who attended the 2022 GPTC and were "incomplete".
Only applies if the cadet completes the license outside of the DND by a Transport Canada licensed Flight Instructor. Should the cadet obtain their license through a DND completion course (if offered), or the cadet re-enrolls for GPTC 2023, the award would not apply. Training may be completed anywhere in Canada.
The individual must still be a cadet at the time the award application is received by the BCPC, and the award must be recommended by both the cadet's Commanding Officer and the Chair of their Squadron Sponsoring Committee.
A downloadable application form will be available from the BCPC website in January 2023.
This special award will end 31 August 2023; all applications must be received by the BCPC on or before that date.
Funds will be issued in the name of the cadet.
There is also a National Flying Training Completion Award programme which ends 31 December 2022. Cadets may choose to apply for the BC award OR the National award, but not both.